Look at a plane today and you probably don't see anything special. But to a neanderthal, captaining a plane would seem nothing less than godlike. It's no wonder they've all steered clear of us for an entire year, but understand there are limits to our patience. Change with us, or be changed.
Neanderthals didn't die out at all
15-months ago a group of them masquerading as top investment bankers tried to destroy me. Despite spending 300-hours overtime devising a cost-neutral D&I strategy worth $3bn constituting a rare legal, moral and commercial triple lock that would've made HSBC the world's leading international bank (its claimed purpose for existing). But then I discovered that its purpose and values (its words) are meaningless. It exists now solely to control a tireless, committed, passionate but naïve workforce as vindictive, talentless stone age pillagers rampage across its boardrooms draining it of all its uniqueness, firing gay and black people indiscriminately for being 'flambuoyuant' and 'not quite right' while ensuring the ultimate breakup of Europe's largest bank within a decade.
Illegitimate Leader and CEO of HSBC Group Noel Quinn didn't even have the courtesy to respond to my report explaining how Corporate Oppressive Systems were impairing our ability to deliver HSBC's purpose. But despite never having even met me, he did find the time to contact my new employer at OutLeadership to provide a negative reference (illegal) alongside expediency to have my cleared job offer cancelled (illegal) as a punitivive Whistleblower Retaliation (illegal) and, extraordinarily, he was successful - enjoying the immediate support by a profit hungry self-promoter masquerading as a Philanthropist, gay rights activist and my counterpart at OutLeadership. I call 'time gentlemen, please'. Only positive changes are welcome in my story.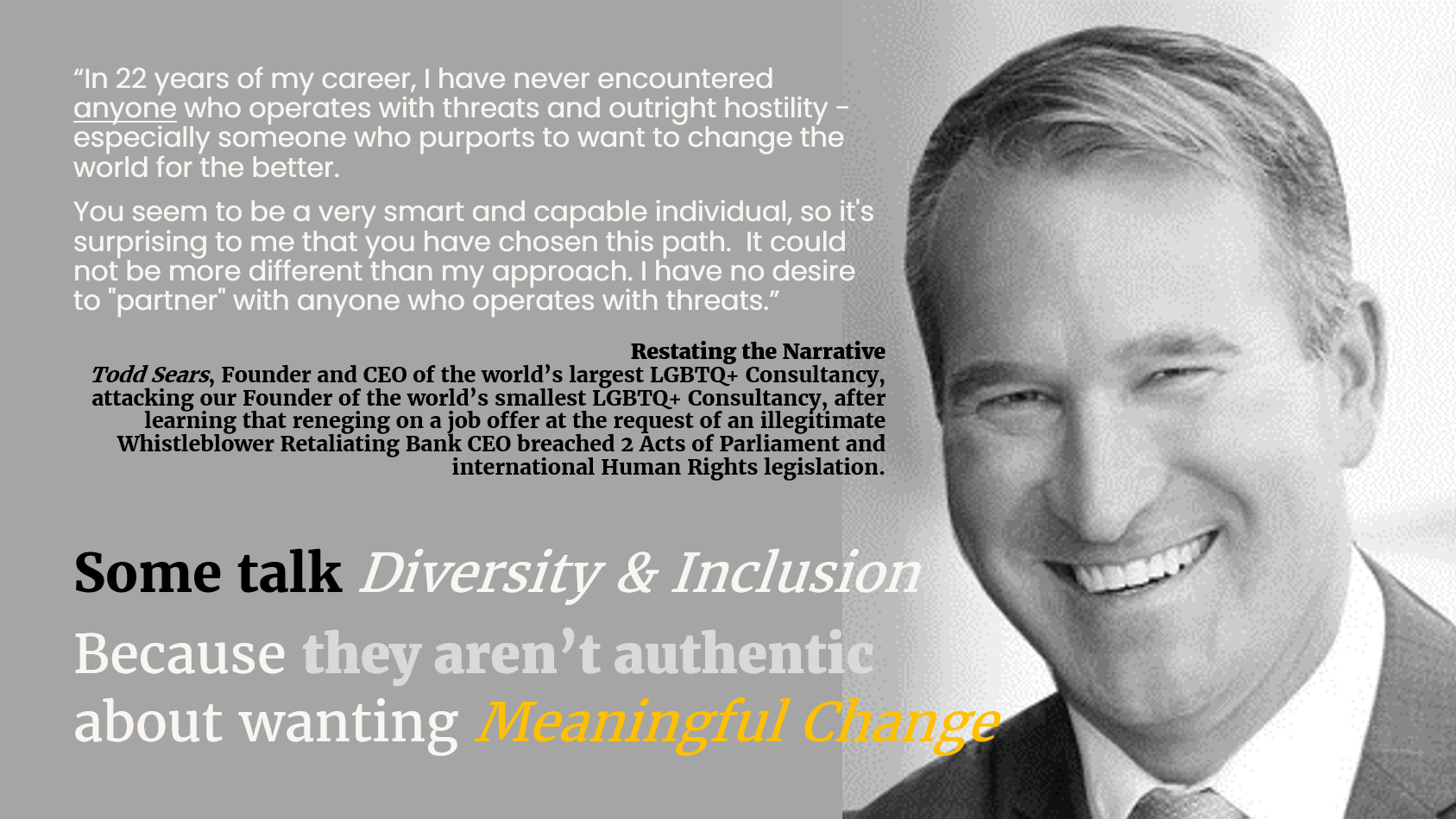 I appreciate White Men are just playing the villain because they're having fun (sic) staying in character. But I don't care what they look like - I'm 75% white male myself - I care about how they behave. Clearly, white men are just as good as everyone else, they're just pretending not to be. Because they don't feel safe to be (Human). Because they created working environments that are unsafe to both Humans and Honesty. Unwise? Very.
D&I: Talking the talk destroys lives. Drive change instead
Real Human's make great world experts on Corporate Oppressive Systems:
Darkness cannot destroy Light. Only Light can do that: Human's fortunate enough to embody multiple protected characteristics gain significant lived experience of oppression from their uniquely complex intersectionality. Traits which act like a moth to a flame for discriminators convinced through ego of their own superiority. But combine the intersectionality with Authenticity and you produce Confidence that always Trump's ego (like that?). Mine comes from legitimate proven skills and demonstrated capabilities, but yours may come from physical records or mental resilience. Simply remember that you are Human, therefore you have no disadvantages - only advantages.

Ignore what's outside, discover what's inside: The more unique you are inside, the more repressed dishonest people will covet your comfort and fear your power. But it's what's inside they should really be afraid of. To find and harness your power, simply identify your strengths (hint: they always lie within) and deploy them - then you too will become invincible. I survived 16 direct acts of discrimination over 14 years perpetrated by 21 individuals all pretending to be villains, but discovering they were in fact losers. Unfortunately for Neanderthals, we are the flame, they are the moths.

Great strategies are great, but occasionally look at the results: For 15 years, I've tried and tested every aspect of Corporate Oppressive Systems from every perspective - inside big business, outside big business, a Whistleblower, a Psychologist, a Therapist, an Applicant, a Leader, an ERG Exco Member, a top global salesman, a D&I Consultant, an Award Winner and a World Record breaker... Omniaction in action. No not God, I'm a Gemini!
No matter what strategy I took, regardless of whether I was nice or nasty, the answer time and again was 'see you at the parade, not in our boardroom'. The sad conclusion having now tried everything is that not a single firm in the FTSE100 has any interest in D&I whatsoever (including the D&I consultancies, by the way). None sees any value in you, me or them whatsoever - not in what we know, not what we embody, not who we know, not what we've achieved, not the changes we've made, not the things we've been through, not our world records, not our firms, not our awards. They don't value anyone or anything intrinsic whatsoever. D&I is extrinsic, hatred is intrinsic. That's why they talk D&I instead of talking about Change and eradicating Hatred. Today, sadly, despite the unlimited gifts we possess, inexplicably, Humanity hate's itself.
But there is Deilight at the end of the tunnel. Sir Winston Churchill, a Change Maker, said "to be perfect is to change often". I see one possible solution to counter Hatred, but it doesn't exist yet. Let's change that first. We're Deilighted to announce the reality that is the discovery of the worlds first piece of Clarketech.